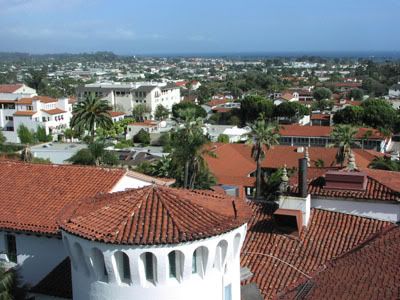 For those of you who have known me for any amount of time, you know that San Diego is my Mecca. Hence, I call it my home town. With all of the fabulosity of America's Finest City, there is still one California town I love even more. Not San Bernadino. I absolutely ADORE Santa Barbara! It is so Old California with the Spanish architecture and tile. It is still quaint even with a sizable population.
So, for my last weekend in Ventura, my husband and I went to Santa Barbara Saturday morning. We didn't do the traditional breakfast, walk on the beach or down State Street. Instead, we went to the gym and then headed back to Ventura. Now, this won't surprise Bethany, who went to S.B. with me only to buy a couple of USB Flash Drives at Staples. For most people, though, during this time of high gas prices, the thought of driving 30 minutes just to work out when there are 3 gyms closer is ridiculous. But, you are not my husband. He knows me. He knows that I love to go to Santa Barbara, no matter for how long or for what reason. (Plus, the 24 Hour Fitness in S.B. is pretty nice!)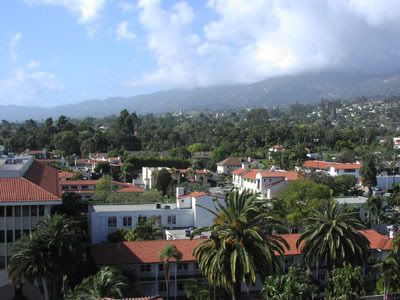 * By the way, the reason I don't live there is because of this lovely quote I found when looking for pictures of my favorite town: "Land of $1.25 Million Dollar MEDIAN PRICED homes."