Ryan and I once again bought the Sea World Fun Card ~ Buy one day, get the rest of the year free! We like to ride our bikes there from time to time and enjoy the park. Today, we met Sarah and Bill for the day. As many times as I've been there, I've never gone on the Sky Ride! I always thought it was transportation to the Sea World Research Institute. I was expecting to tour the labs and all that good stuff. No, it is simply a ride. We get in those little sky cars, travel across the bay, and turn right back around. Strange ride, but beautiful views! Here are some pics:
Ryan in the Sky Ride (He's ready for Baseball Season!)
The View of Mission Bay from the Sky Ride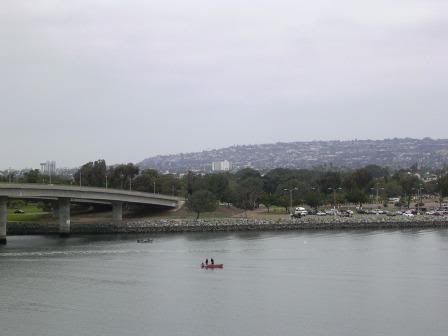 Hidden Swordfish on the ceiling of the aquarium
And, of course, Shamu!