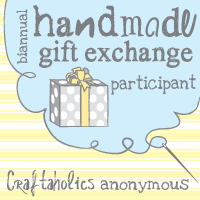 Last month I participated in a handmade gift exchange with
Craftaholics Anonymous
. She is the same blogger who does the
winter craft exchange
that I participated in last year! I love these swaps! They are so fun and I love trying new projects for them!
My exchange partner was a girl who lives in Wyoming. She has a 6 year old daughter, so I decided to make Mommy & Me aprons! It was my first time making an apron without a pattern, but I just perused a couple of tutorials online and made these cute ruffly aprons!
Speaking of things I made last month, I tried my hand a freezer paper stenciling finally! I painted and embellished this little onesie for Tessa. I LOVE how it turned out! Sweet and whimsical!